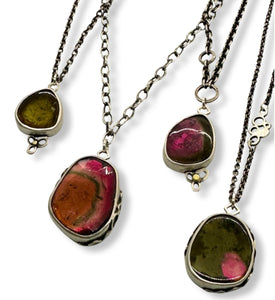 Tourmaline Handmade Necklaces
These sterling silver necklace feature unique Tourmalines hand picked by Martha for this truly one-of-a-kind collection. Each one has special details from the Silhouette Collection and are completed with bright 18k yellow gold details. 
Each necklace is sold individually, but they are beautiful stacked together with the earthy tones we love in Tourmaline!
Please, inquire on price and availability of each necklace. Price below reflects an average.
---
We Also Recommend